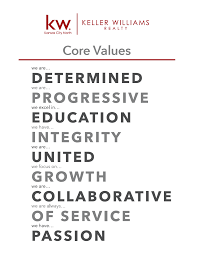 OUR MISSION


To build careers worth having, businesses worth owning, and lives worth living.
OUR VISION


To be the Real Estate Company of Choice.
OUR VALUES



God, family, then business.
OUR PERSPECTIVE
A training an consulting company that also provides the franchise systems, products, and services that lead to productivity and profitability. Keller Williams thinks like a top producer, acts like a trainer-consultant, and focuses all its activity on service, productivity, and profitability.